I'm building a WWII Russian themed Imperial Guard Armoured Company. Its taking me a while, but one of the blockers has just been overcome - my Russian heads from West Wind Productions have finally arrived. West Wind have a line they call their Separate Heads System, where most of the heads they make for 28mm lines are available separately.
Firstly, let me complain about how long these tool to arrive. They took a LONG TIME. Checking my emails, I put my order in on 23rd June and was informed they shipped from the UK on 5th July, two weeks later. They arrived OVER FIVE WEEKS after that, on 10th August. Don't expect swift service here folks.
At least everything arrived as ordered. I ordered 80 heads with helmets and 20 with caps. They come in packets of 20, with four connected to each sprue, cast in white metal. There is also a colourfully illustrated catalogue, that sadly has no pictures. Duh! There aren't any pics online either, I had to go sight unseen and that doesn't help sales folks.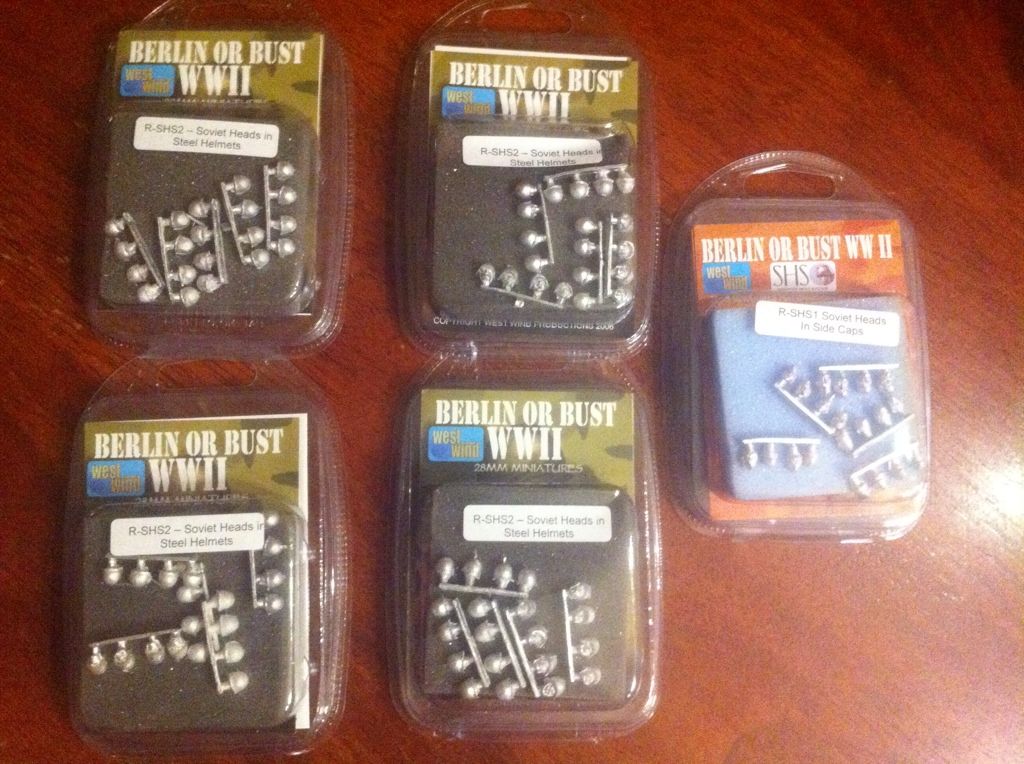 This is what you get in the package.
Here is the contents unpacked.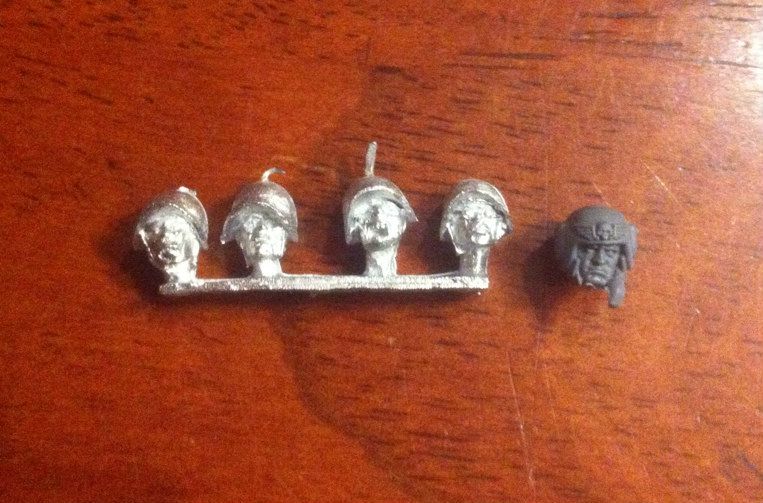 Here is a comparison of the Russian heads with IG heads.
The heads have a little minor flash and annoying casting line on the top of most helmets. You will need to file them all down. Converting these heads to fit nicely on Imperial Guard torsos is serious modelling work, not for the beginner by any stretch. I suspect that the models these are designed to attach to have a recessed circular hole matching the peg that each head is cast atop of. This would make them very easy to work with. I guess I could have drilled a hole for each, but I would need a drill bit exactly the right size which I don't have available.
So what I did was first grab the head with pliers and twist right-left until the metal fractures. Usually this is at the base of the peg, sometimes closer to where the peg joins with the head. Then if the peg is longer, I used wire cutters to shorten the peg and create an angle so that it fits nicely into the Imperial Guard torso. Then I filed down the peg so that the bottom is flat and the edges sloping in slightly. Finally a dab of superglue and the head is on.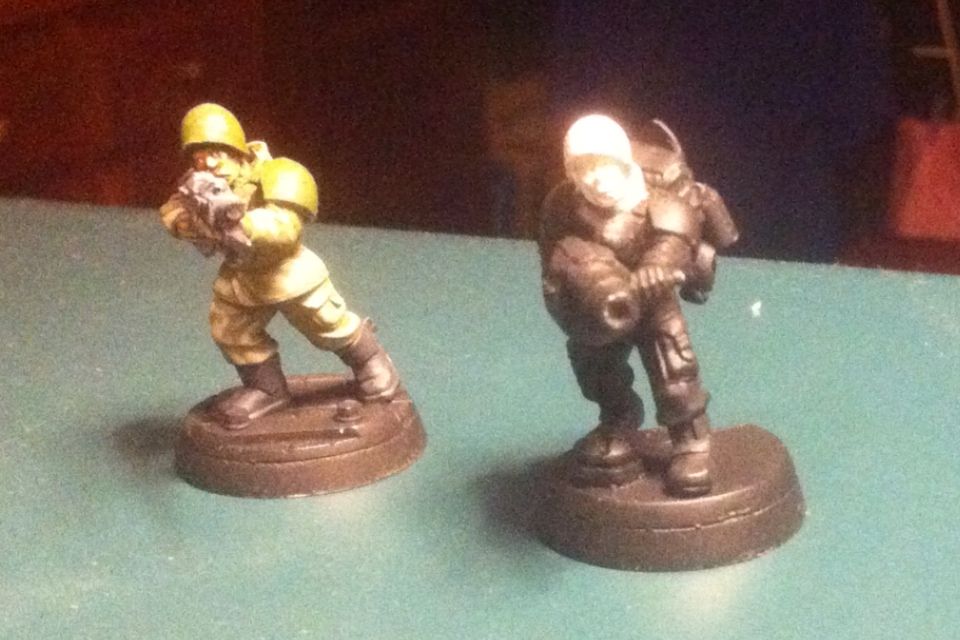 Here are two models with the helmets, one painted and one unpainted.
Overall, the effect is fine and I am happy with this purchase, but I wouldn't recommend it for people without a good chunk of modelling experience. It takes a fair bit of work and patience to get these converted. The faces are OK but nothing special. Some of them look a little distorted but nothing that can't be fixed in the paint job.